Gift Certificates
From the South Beach Fish Market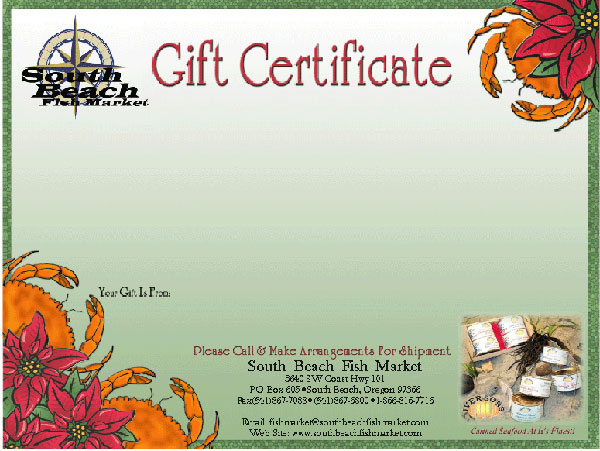 These make perfect gifts for friends, families, colleagues and can be ordered online. Fill in the form below.
Pay on the next page (after submitting the form).
After processing your order, we will mail the gift certificate to the recipient at the address provided.
* = required fields
Please call us at 1-866-816-7716, 8:00am to 9:00pm PST, with any questions about gift certificates.
How to Redeem a Gift Certificate
The recipient of the gift certificate can call us to place an order or they can select products from our
Seafood Catalog
page and we will combine shipping on the products and call or email them with a total due, less the amount of the certificate.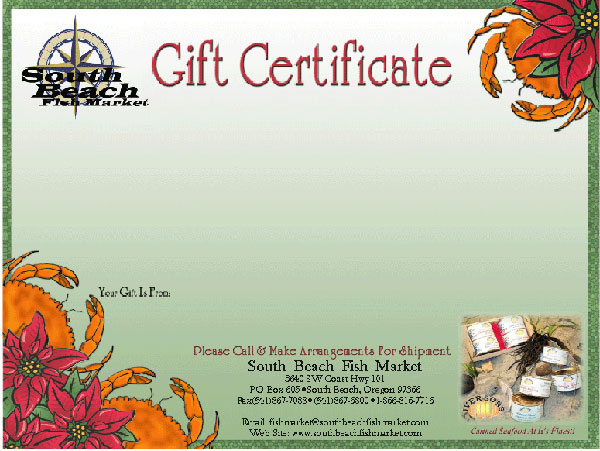 Sample of a South Beach Fish Market Gift Certificate
This will be mailed to the gift certificate recipient with your name as the sender and with any greeting from you (just fill in the Special Instructions in the form above).